Modern flexible offices
Coworking centre AT DALLAS CAMPBELL CENTRE
Stories:
News - Press Releases - Blogs
In the 21st century, almost everything one sees is digital. Devices that can be switched on from miles away via a smartphone app, automobiles, automatic appliances that can be synced to various gadgets, or just the most common service of all - payment apps - and what do they all have in common? They're all operated by means of the Internet and a network connection. Nothing is more necessary...
November 21, 2020
Check out these five tips and strategies that can help you make the most of your coworking space says Jason Bowers CEO of Dallas Coworking  There is no question that coworking is changing the way people work. In a survey of individuals who use coworking spaces, 84 percent said that working from a coworking space makes them feel more engaged and motivated about their work. However, there is ...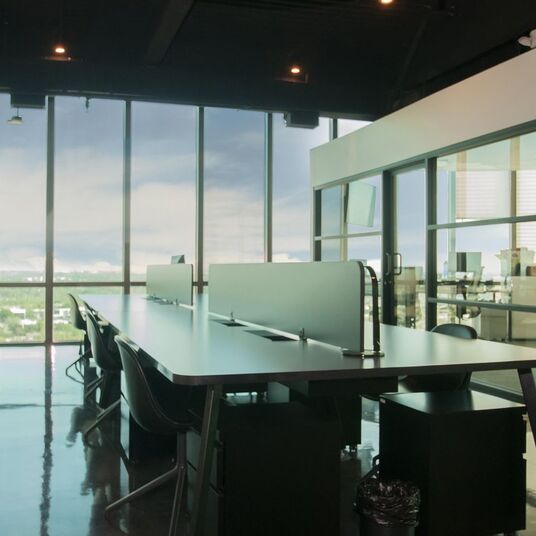 November 05, 2020
According to the Harvard Business Review, research published in the Journal of Organizational Behavior shows that people who use co-working spaces score an average of 6 out of 7 on a working thriving scale. In a report explaining why this is, Harvard researchers stated, "This is at least a point higher than the average for employees who do their jobs in regular offices, and something so unhe...
October 25, 2020
Whether you're starting a new venture, freelancing, or looking to grow your established business, flexible office may offer cost-savings. New report by Dallas Park Cities coworking Coworking spaces have a lot to offer new businesses. As any would-be entrepreneur knows, starting a business is a costly endeavor. This is probably why workplace experts predict that half of the workforce in the Un...
September 25, 2020
Why Coworking Is Important in a Pandemic Explains CEO of Flexible Offices From Dallas The coworking industry is changing rapidly, which has been the case for several years as the nature of work keeps evolving. More people than ever before are transitioning to a remote work lifestyle or a hybrid arrangement that has them in the office on some days and working from home or elsewhere on other da...
August 27, 2020
Dallas, TX - Dallas based Venture X Campbell Centre is now Venture X Park Cities. A Dallas modern flexible office space centre that offers short term office rental plans at the historic Dallas Campbell Centre felt that they needed to provide better visibility to Dallas surrounding areas near Park Cities.  According to Dallas Magazine, "Two small Dallas suburbs — University Park and Highland ...
August 04, 2020
If you're on the fence about coworking and worried about changing from a traditional office to more flexible space, there are a few things you should consider to help you make a good decision about whether coworking is right for you and what kind of space will help your business succeed. 1. What Are Your Needs? Every business is different, so it's a good idea to start by asking what kind of e...
July 14, 2020
The phrase "digital nomad" has only been around since 1997, but it has become part of the booming culture of people who have found ways to work from anywhere.  Coworking spaces are perfect for this group of workers. With a coworking space, digital nomads can work whenever and wherever they want.  Because many digital nomads have a home base where they live when they're not traveling, coworkin...
June 24, 2020
Freelancers and entrepreneurs are often forced to work from home or from busy coffee shops amidst a sea of distractions, but a popular alternative to these settings is on the rise. A coworking space poses a perfect solution for professionals who face such problems because it offers them office space at a reasonable price with all the amenities of a traditional office space without the distrac...
June 20, 2020
Dallas, TX — With the economy and the rest of the world shifting to adapt to the monumental challenges that came along with an unprecedented pandemic, brick and mortar buildings are becoming a fragment of the past for many businesses. Virtual offices and remote work have a number of benefits aside from limiting potential infection: they save the overhead cost of rent, reduce the cost of servi...